The FREEDOM medical Insole
Free yourself from knee pain. Today.
A game changer for people suffering from knee osteoarthritis. Reducing knee-joint load for immediate pain relief and an improved long-term prognosis.
The Freedom Insole is more than just cushioned relief: It is the only insole specifically designed to unload the medial compartment.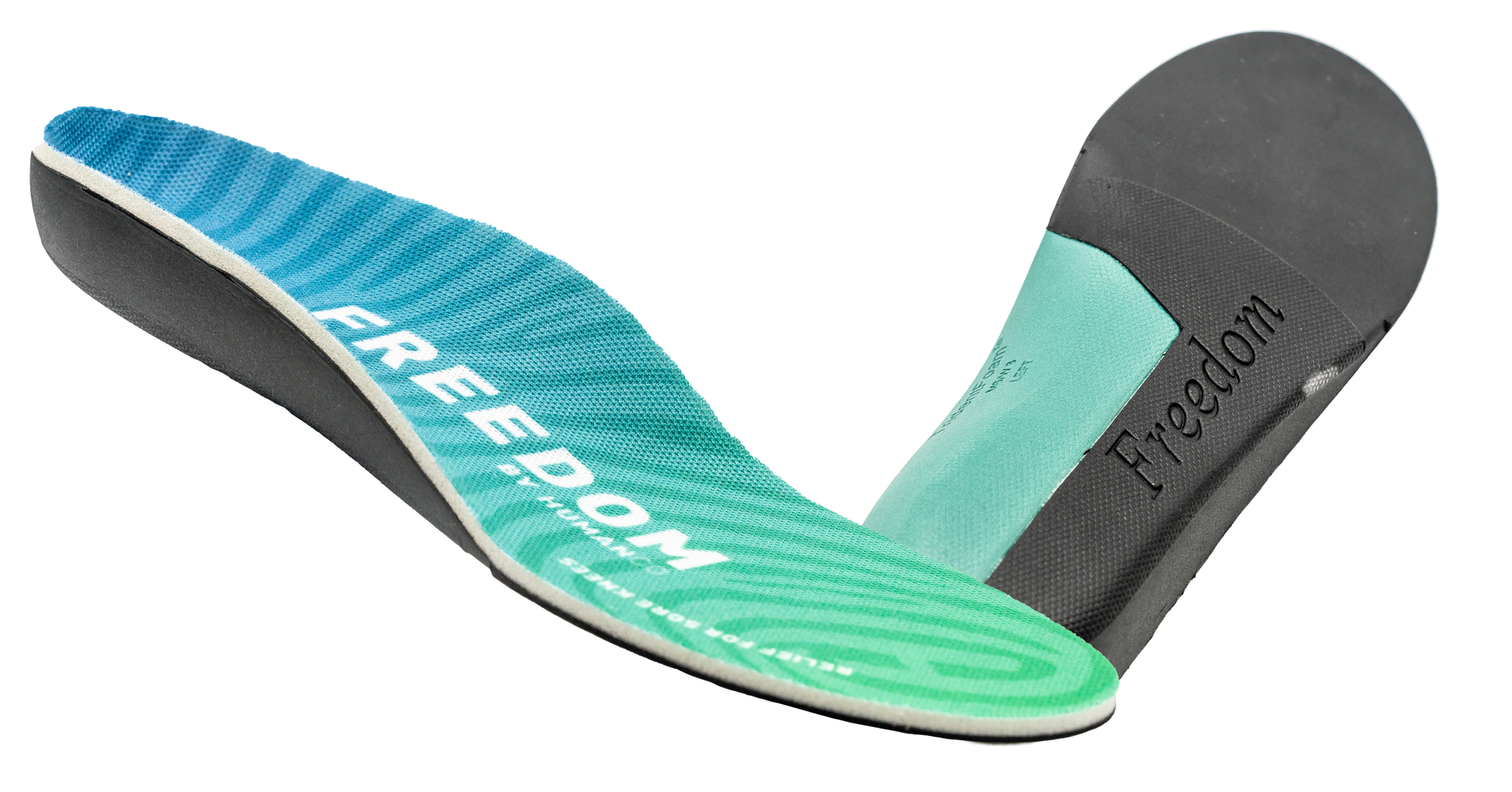 Our Inspiration Behind The Freedom Insole
Patients should be empowered to be active

It is so important to exhaust conservative care for people with osteoarthritis before consider medication and surgery. If we found a solution that was simple, easy to use, affordable and effective then we can unlock greater mobility for the millions of people suffering with arthritis.

We understand the power of insoles

We've been working in the orthotics and footwear space for over 30-years and appreciate what you put under your feet matters!  Insoles can make a meaningful difference in the forces acting on your feet, ankles, knees and back - surely they can also reduce loading in patients with knee arthritis.

Trident Foam is Born!

By combining multi-density foam with contoured arch support - we thought we could provide a clinically meaningful reduction in knee joint loads while also supporting the foot and ankle. Creating the insole was one thing; testing it to ensure it worked was quite another! Over the past 7-years, we've been testing (and publishing - see our research section!) the Trident Foam technology used in the Freedom to make sure it is both comfortable and effective for the symptoms of knee Osteoarthritis.

Less load means less pain and better long-term outcomes!

The Trident Foam technology in the Freedom Insole works by shifting pressure towards your foot's lateral (outside) part. In turn, this pressure shift re-directs the ground reaction force closer to your knee, reducing the moment arm and joint loading on the medial (inside) part of your knee with each step.
By combining dual density foam, contoured arch support, and the effectiveness of lateral wedge technology is really where the magic happens in the Freedom Insole that supports the feet while still unloading the knee.

The Freedom Insole is just the start

The Freedom delivers on all our initial goals: easy to use, inconspicuous, affordable and effective. However, the real treatment comes when you can get back to enjoying your favorite activities, whether it's walking, hiking, tennis, golf, fishing, or pickleball! The movement and muscle activity in those activities will not only make you feel more like yourself - but help strengthen and support your knee simultaneously!
Testimonial
Listen to how HumanCo insoles allow Tim to continue to play hockey with less pain.
More Stories
★★★★★

Freedom

These insoles are great. After trying braces or sleeves for the last couple of years for my sore knee, the Freedom insoles are easy to use and effective…no more sweaty and conspicuous braces!

Marion Ryan
★★★★★

Better than knee brace

I'm a tradesman who's on his feet all day and used to wearing custom knee brace but found it hot and uncomfortable. Such a grind to wear everyday. Then I tried the Freedom and felt relief within hours – loved it!

Tim
★★★★★

Feeling great!

These insoles are unreal – my knees felt better within hours after trying them.

Hector Fernandez
★★★★★

I just received my insoles and they are awesome. You wouldn't believe
how they have helped my knees in such a short time - highly recommended


P Myers.
★★★★★

The pair I got worked for me - they are comfortable and supported my knee

Paul